Upcoming Retreat Informaton
[diec_event_carousel show_name="off" show_category="off" show_weburl="off" included_categories="145″ _builder_version="4.17.4″ _module_preset="default" title_level="h6″ title_font="|300|||||||" global_colors_info="{}"][/diec_event_carousel]
What is Refresh Retreat?
This day to reconnect with God and his people at NewHope.
When we find deep soul rest – creativity reignites, our brains begin to operate with new clarity and our bodies just feel more energised. The Refresh Retreat is designed to do just that!
We've crafted a retreat with loads of flexibility so you can get the balance right for you. The program presents choices and the location allows you to be with others or to find space alone in a stunning natural setting.
This retreat will help you to imagine a more vibrant spiritual life, to meet new friends within our church family, to have fun and laughter and great food. AND we've made it as easy as possible for you to be a part of it.
The Refresh Retreat is hosted and run by NewHope Church Leadership and Prayer Teams and welcomes everyone connected to the NewHope community to come along.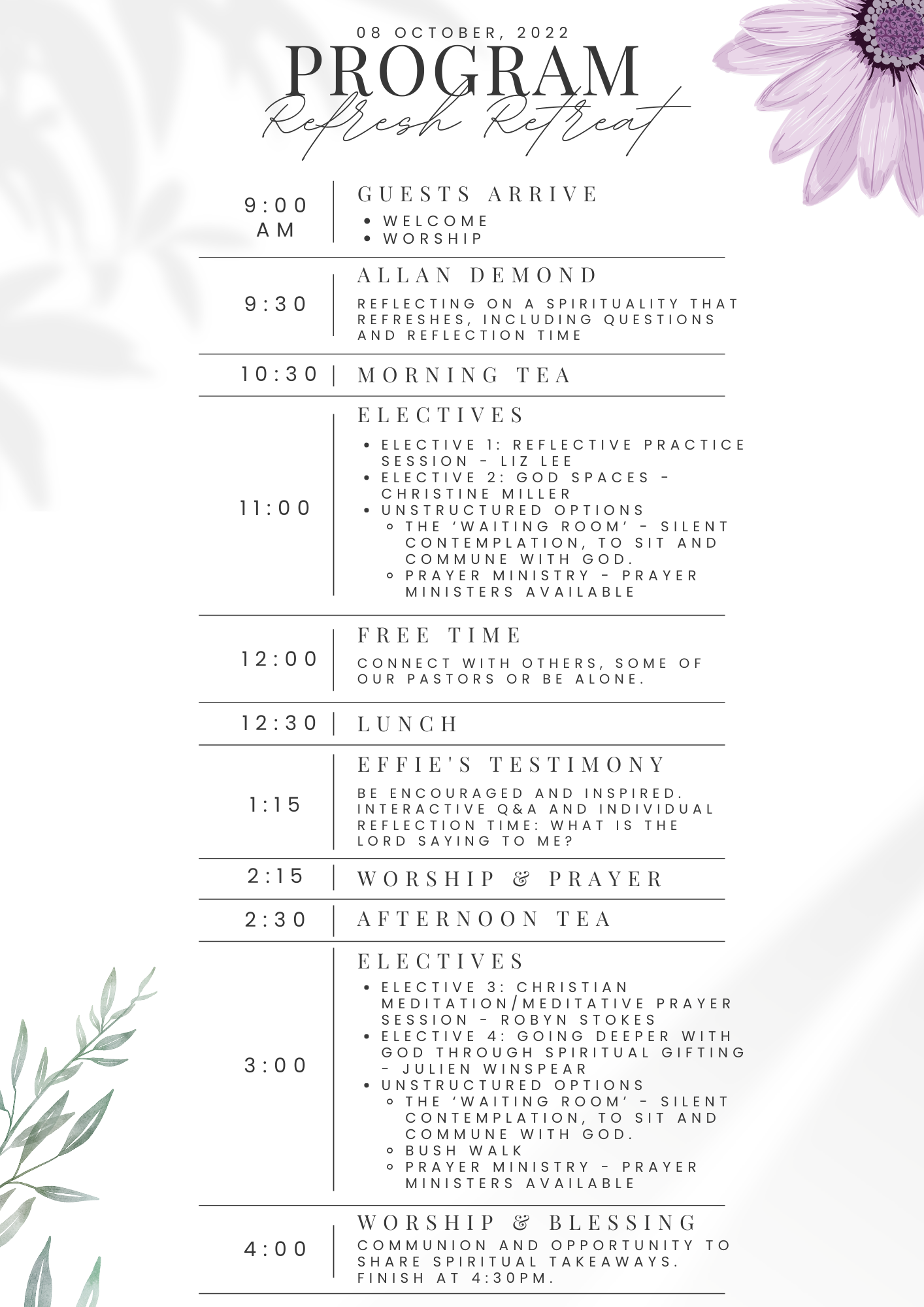 The Location – The Amberly Conference Centre
Amberley is situated on Melbourne's Yarra River at Lower Plenty, around 20kms from Melbourne's city centre and 18 minutes drive from NewHope.
The Centre is well off the main road and located on 20 acres of peaceful bushland, overlooking Westerfolds Park with the Dandenong Ranges vista as a backdrop. So although you haven't gone far, you will feel like you are miles away.
The Rooms where you will stay are twin share and the accommodation in main building at Amberly.
Why should I go to Refresh Retreat?
I am keen to deepen my faith. This is worth investing in.

I need to create a space in my life to 'be still and know that He is God'.

There will be safe and inspiring people there to guide me to grow, to heal, to listen, to minister to me.

I can hang out, enjoy the food, play games, use the beautiful walking tracks and just chill – this in itself is spiritual tank filler.

I'll be cared for with good food, beautiful surroundings and a comfy bed and fellowship. 

I want a fresh start – fresh wind – with God. I'll do whatever it takes because nothing is more important in my life than that. 
Register Now to Secure Your Place
Arrive Saturday morning 9.00am. Depart after the evening session.
Morning Tea, Lunch, Afternoon Tea included.
$95 per person
The best gift ever!
Give the Retreat as a gift to a very special someone for their birthday, Father's Day or even an early Christmas present. This would be a unique, deeply meaningful and unforgettable gift. If you register as a gift, we'll also send you a lovely gift certificate.